An experienced financial advisor can help you to manage, protect and invest your assets. Here at Lazenby's financial services, we focus our expertise on creating a bespoke plan to suit your personal risk profile and lifestyle needs.
A family-run company, Lazenby's team of Personal Investment specialists, who use managers that are from the Whole of the available marketplace, deliver clients with the greatest array of investment solutions.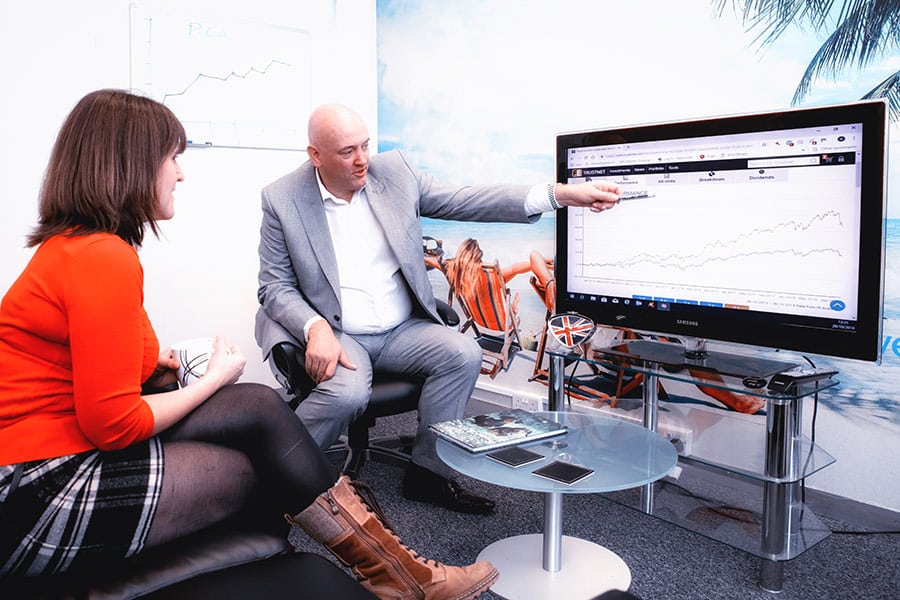 Key Benefits Of Asset Management Leeds
With over 20 years' experience in managing money, Lazenby's financial services have helped hundreds of clients plan their financial future. In addition to our experience in asset management, we use cutting-edge advice software to consolidate our expert advice. We are able to advise on all aspects and complexities of asset management to provide a comprehensive, holistic service to our clients.
Diversification of Assets
In order to ensure your assets work hard for you, we offer expert advice on how best to diversify and identify opportunities to improve your assets by spreading them out across different asset classes. The phrase 'don't put all your eggs in one basket' is a useful analogy when considering an investment strategy. Investors don't always realise how important diversification of their assets is but it is important to spread the risk across different assets, rather than invest in a 'concentrated portfolio'. The following assets are classified from 'decreased risk' to 'increased risk:'
We assess your risk profile to understand your attitude to risk and tailor a suitable investment strategy to you. Your asset management plan must fit your aspirations and goals. Our team of financial advisors have access to funds from the whole of the investment market as well as dozens of offshore bond providers. This is why we tailor advice based on what your assets are to be used for now, and in the future.
Our goal is to make your assets work hard for you, even while you sleep. We offer the latest, independent advice on how to make the most of assets by managing taxation and identifying opportunities to minimise tax. For instance, we work to protect your assets from Inheritance Tax (IHT), while considering other factors that may affect assets such as estate planning and your pension.
There is always an element of risk with any form of investment. For instance, the value of investments can go down as well as up and you may not get back as much as you put in. For your peace of mind, we encourage you to view your portfolio management with impartiality and without emotion to ensure that any key decisions are based on information that fit your personal profile.
For example, a lower risk portfolio will generally hold a higher proportion of cash investments and fixed-interest securities. However, a high-risk portfolio is more likely to have a higher proportion of shares. We can help you to navigate risk and reward through higher inflation expectations and higher rate expectations.
As an experienced Asset Management company in Leeds, we pride ourselves on independent, impartial advice. Money sparks emotion, especially when it refers to your own finances. This is why we specialise in equipping you with the information you need to make informed decisions about your finances with sustainable and ethical investments. We will research the whole of the relevant market, to provide you with the best available investment funds, offering the diversification and return potential, using providers with a proven long-term performance.
NB: Past performance is no guide to future performance and the value of your investment can fall as well as rise, and you may get back less than you invested.
About Lazenby's Financial Services
FA firms with good asset management knowledge can save you a lot of time and a lot of money.
Lazenby's are proud to be a trusted pair of hands as one of the leading asset management companies in Leeds.
We ensure regular contact with every client and your first meeting with us is at our expense. It important that you have the freedom to decide whether we can provide what you are looking for at the right price.
Our expertise encompasses the following:
Looking for Asset Management in Leeds?